Manufactured from 1970 to 2003
The NAGRA SN recorders (for "Série Noire"), in spite of their small size, produce exceptionally high quality recordings. It is much appreciated by reporters, who can record broadcast quality tapes and, at the same time, be more mobile.
It was originally ordered for the American Secret Service and was even taken to space as part of the Apollo missions.
Key features
The SN solves film-makers' synchronous sound recording problems: it can easily be concealed during filming and strict synchronization is guaranteed. For scientific research, the SN can also record data while on board a propelled craft.Reels of narrow 1/8″ (3.81 mm) tape are used, and tape drive is by a slaved capstan motor. Rewind is manual but rapid thanks to an overdrive system, using a small folding crank handle.
There are different versions of the recorder:
NAGRA SNN full-track recording, 3 3/4 and 1 7/8 in./sec. (9.5 and 4.75 cm/s)
NAGRA SNS half-track recording, 1 7/8 and 15/16 in./sec. (4.75 and 2.38 cm/s)
NAGRA SNG
NAGRA SNST
NAGRA SNST-R
The tape-deck is milled from a solid piece of metal and the case and lid are of drawn light metal alloy.
All electronic circuits are highly sophisticated and include a voltage converter with variable ratio, and an automatic level control. A special miniature omnidirectional capacitor microphone can be used and it is also possible to work with a conventional dynamic microphone.
A small meter indicates the compression rate of the automatic level control or the battery voltage. Headphones can also serve as an output monitor (confidence playback).
More details about the SNST-R:
Key features
The Nagra SN miniature analog recorder was created specifically to satisfy the stringent requirements of recording during the 1970s. As its reputation of superb sonic performance and unrivalled mechanical reliability grew, the Nagra SN became the machine of choice for many security agencies around the world and was even featured in numerous motion pictures both on-camera and as a production tool. Nagra brings this high technology jewel, situated between tradition and innovation, to music lovers. This is what the SNST-R is all about, musical emotion and rediscovering the true analog sound.
Precision in the finest detail
The SNST-R and its miniature jewel-like construction is a perfect reflection of the engineering and manufacturing expertise at Nagra. The SNST-R is milled from a solid block of metal, with top and bottom covers drawn from a light metal alloy. Its stunning look and superb engineering allow analog enthusiasts to maintain the values of Swiss crafting. Nagra-made heads, the meter, equipped with two scales, giving the recording level and indicating the status of the internal batteries, the manual rewind crank, offer the famous Swiss-watch precision. Measuring 146 x 101 x 26 mm and weighting just 590 g, the SNST-R becomes a discreet high-end miniature recorder.
High-quality recording and sonic excellence
The Nagra SNST-R has a frequency response of 50 Hz to 15 kHz ±2 dB. The wow and flutter performance of 0.05% is also state-of-the-art. Its small size renders it an ideal candidate for all portable, location or discreet recording applications. The machine uses 0.15" (3.81 mm) tape on special open reel spools. Operating at a tape speed of 3.75 inches per second (9.5 cm / S), it yields duration of approximately 40 minutes per reel of tape. The Nagra SNST-R uses two "AA" size batteries or rechargeable cells. This enables more than 5 hours of operation.
Connectivity
Two connection sockets on the left-side allow the connection of either the two accompanying Beyer dynamic microphones or the line input cables. The outputs are available on the two 3.5 mm jack plugs, located on the front edge of the SNST-R. They can be used either for connecting the headphone (with an impedance of 2 x 600 Ω) or the line output cable.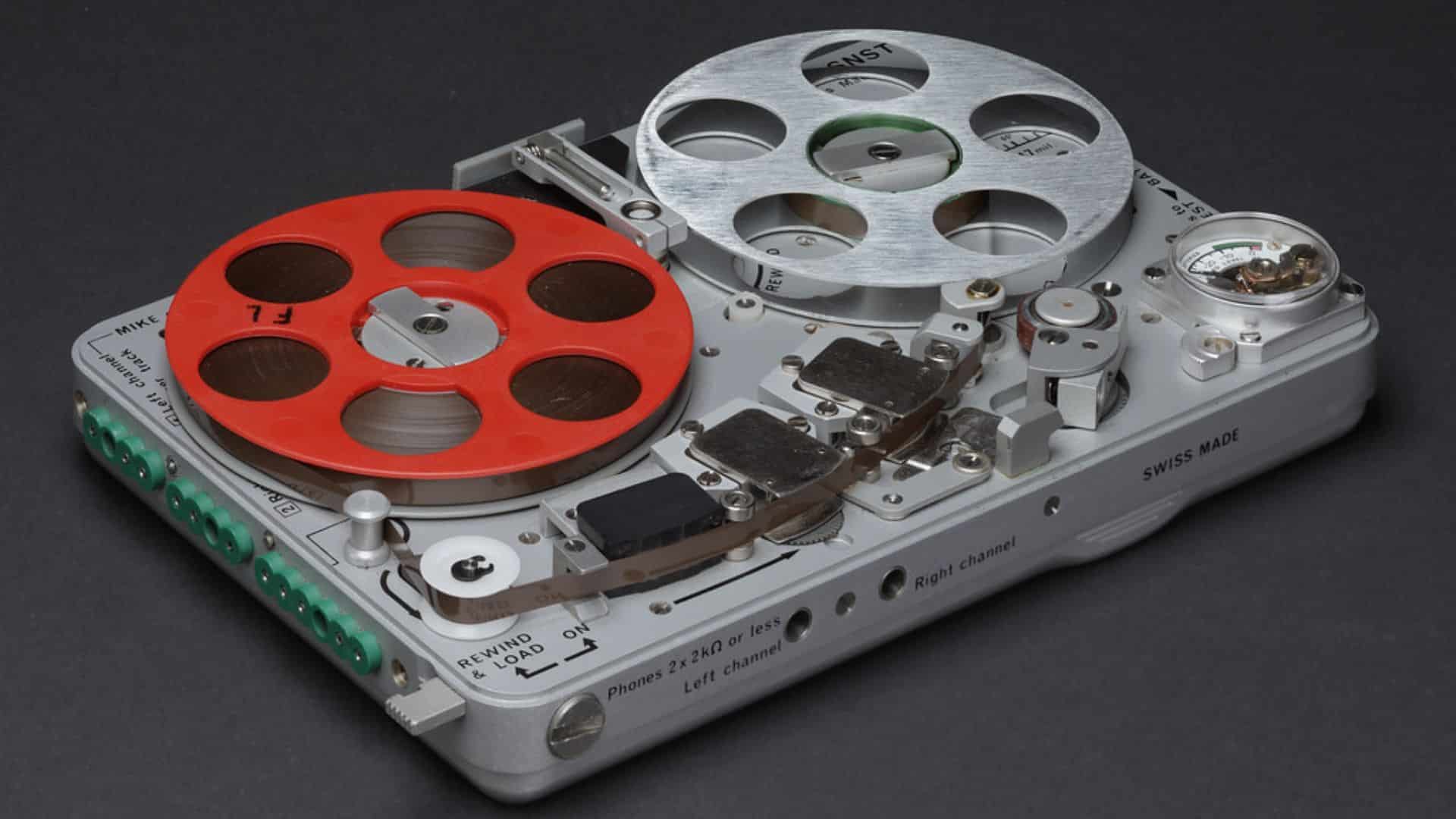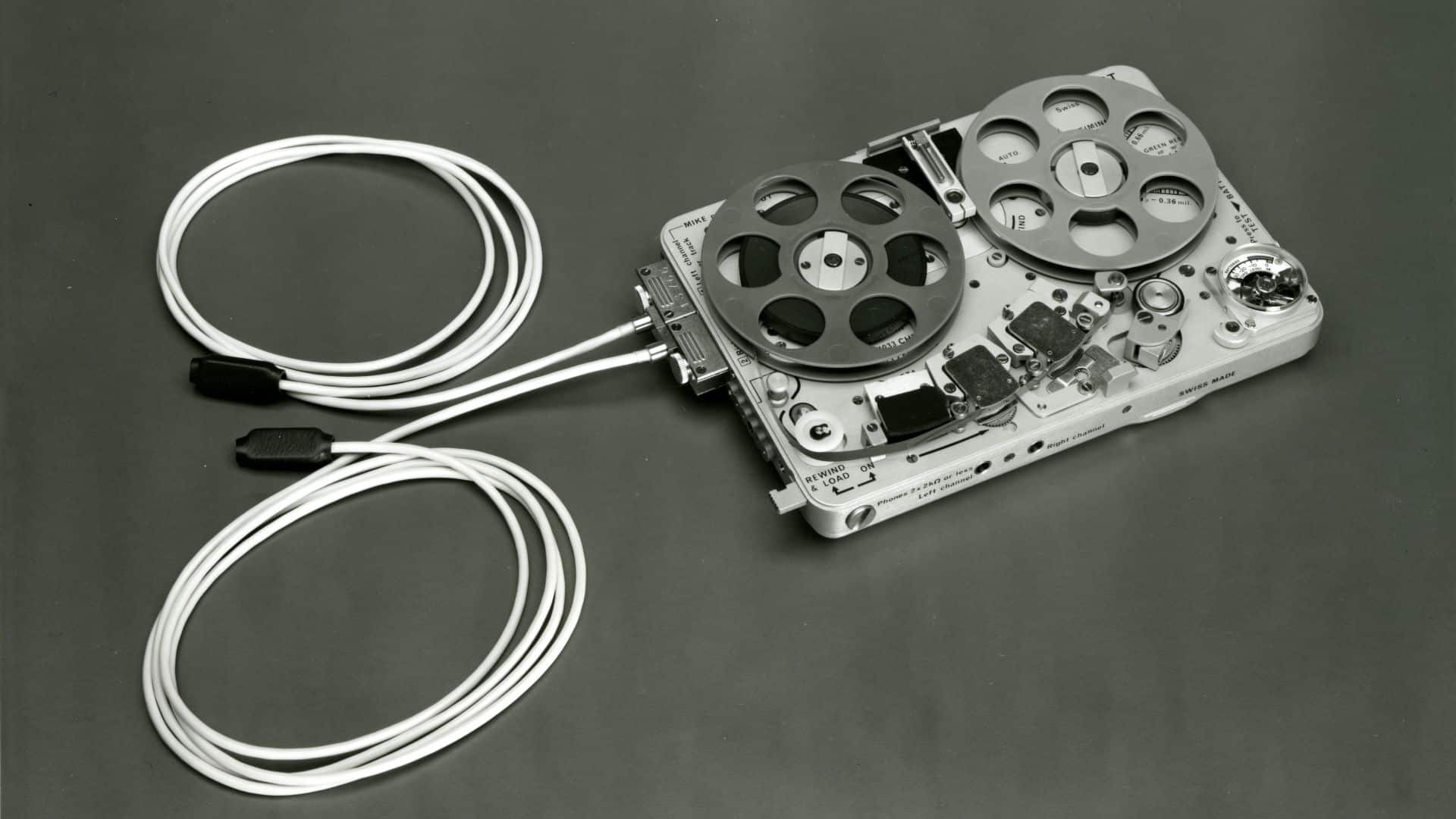 Other products to discover
NAGRA NEWSLETTER: Stay in The know
Get the latest news from Nagra plus some exclusive content directly in your inbox.
UP