Manufactured from 2007 to 2020
Valve Phono Amplifier
The VPS dual input valve phono preamplifier is based on the design principles of the world acclaimed PL-P phono stage.
The listener benefits from the true sound of their vinyl record library using the outstanding performance of Nagra tube electronics.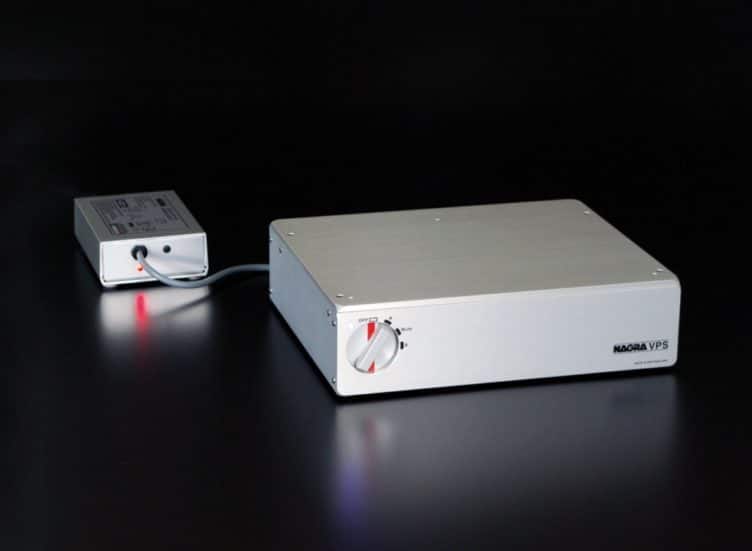 Chassis design
Built in a traditional Nagra compact brushed aluminium case with identical dimensions to the preamplifiers and CD players, this dual input phono preamplifier is to be used in conjunction with a line preamplifier such as the Nagra JAZZ.  The metal chassis of the VPS offers excellent protection from spurious parasitic interference which can be very influential when working with phono level audio signals.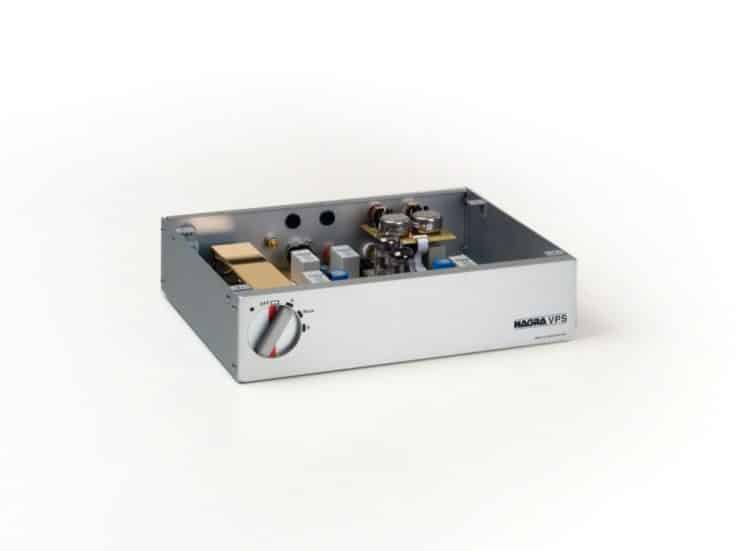 Circuit design
The internal circuits of the VPS are gold plated and benefit from in-house wound input transformers to guarantee the highest possible fidelity when operating with a moving coil cartridge. All the connections to the VPS are available on the rear of the unit and use the WBT gold-plated RCA connectors. The VPS is equipped with a single MM / MC input stage as standard, but can be equipped with an optional second MC /  MM or MM only input circuit to accommodate a second tone-arm or turntable.
Even though the circuit is mounted on insulation suspension mountings, ideally, the VPS should be installed on the VFS (Vibration Free Support) shock absorbing plates, to totally eliminate any mechanical vibration from being transmitted to the highly sensitive input stage.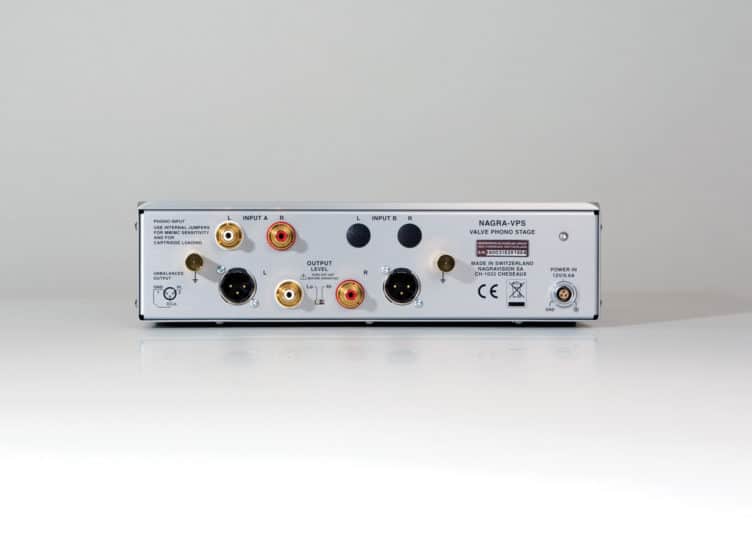 Adaptive loading circuits
Taken from the concept of the PL-P the VPS uses adaptive loading circuits built onto small additional boards that can be inserted as required.  Six of these circuits are delivered with the unit, allowing the input impedance of the VPS to be adapted to match virtually any phono cartridge. Three additional custom made modules are available from Nagra, free of charge upon request.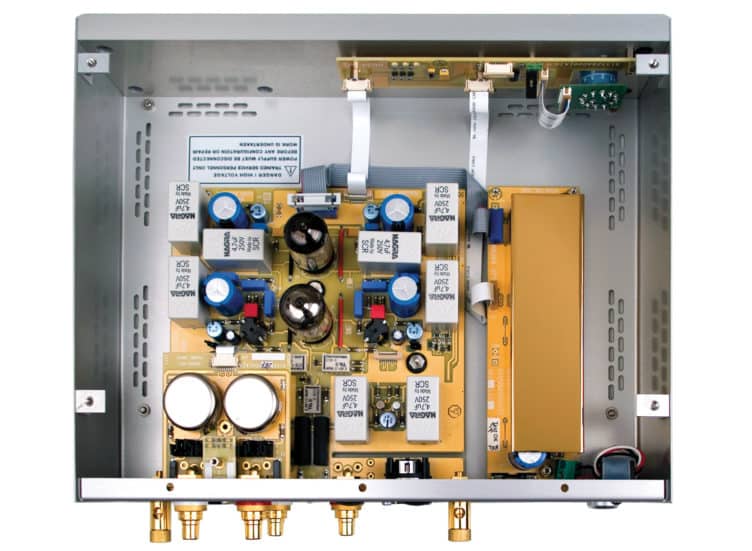 Powering
The VPS can be powered by its own independent 12V supply unit. To take the VPS a step further, the MPS multiple power unit can be used. In this case, adding the optional Li-ion battery pack, to guarantee complete isolation from the Mains, should be considered.
Technical specification
ELECTRONICS
| | |
| --- | --- |
| Frequency response: | 20 Hz to 30 kHz (+1/0 dB) |
| Harmonic distortion: | > 0.15% (Hi output position) |
| Signal-to-noise ratio: | > 77 dB (ASA A) |
| Channel separation: | Typically 60 dB |
| Input circuit loading: | Without load module installed: 47 kOhms (can be deactivated) |
| Loading modules: | 6 modules supplied, 3 custom-made upon request |
| Input circuit A: | Accepts MM and MC inputs |
| Input circuit B (optional): | As input A or MM only (without transformers) |
| Transformer gain: | (MC input) 11 dB |
| Tube stage gain: | 34 dB (ECC 81 and ECC83 tubes) |
| Transistor stage gain: | 15 dB (can be deactivated) |
| Correction norms: | RIAA 1953 (with jumpers in place) or IEC 1976 (without jumpers) |
| Power consumption: | 12,6 W (in 1.6W stand-by mode) |
| Power supply External: | 94-132 V or 188-264V / 44 to 66 Hz |
GENERAL
| | |
| --- | --- |
| Input connectors: | Gold-plated RCA-Cinch WBT |
| Output connectors: | Gold-plated RCA WBT or asymmetrical XLR Neutrik connectors |
| Weight: | 3.3 kg (7.3 lbs) |
| Dimension: | (W x D x H) 27.7 x 254 x 76 mm (12.2 x 10 x 3 inches) |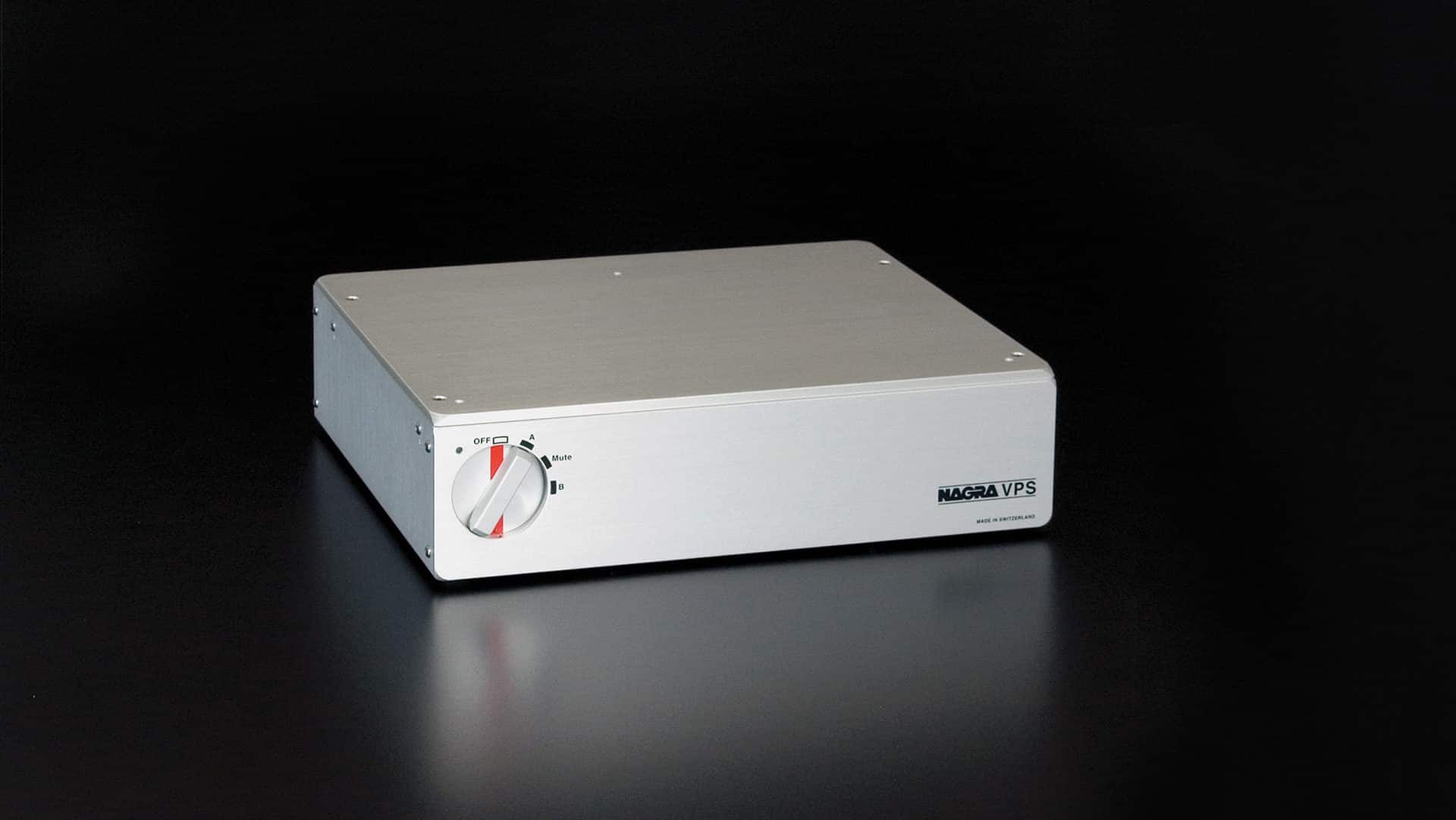 Other products to discover
NAGRA NEWSLETTER: Stay in The know
Get the latest news from Nagra plus some exclusive content directly in your inbox.
UP