Manufactured from 1992 to 1999 for the Nagra D
and from 1999 to 2005 for the Nagra DII

Multi-channel digital audio recorder
The acceptance of the Nagra-DII with its on-board 24 bit AD/DA converters maintains the position of its predecessor the Nagra-D amongst the finest recorders of all time.
In various different domains the Nagra-D and DII are being used to capture the highest possible "on-location" audio. The music industry continues to use the Nagra-D as a mastering format for CD's and thanks to its 96 kHz possibilities and enormous dynamic range is being widely used in fields varying from classical music to ethnomusicology.
In the cinema industry, the Nagra-D continues to be the recorder of choice for many sound mixers. "The Insider" starring Al Pacino and recorded by Lee Orloff using his two Nagra-D recorders was nominated for the Best Sound OSCAR at the 2000 Academy awards in March.
Key features
Its 4-channels with confidence playback and all the synchronizing possibilities make the Nagra-D a strong contender in all cinema applications.
The advantage of being a tape based format, as far as getting sound from the actors and into the post production is concerned, relieves a lot of logistical headaches caused by other digital high bit rate formats.
In the instrumentation market, despite the fact that the Nagra-D was not designed as an instrumentation recorder, certain applications have drawn upon the Nagra-D's outstanding features for storage of ecologically related recordings referring to ambient noise levels. The dynamic range and flat response offered by the Nagra-D lend themselves perfectly to many different instrumentation applications.
Ultimately, the ruggedness and reliability of the Nagra-D and now the Nagra DII has been proven the world over in the most hostile conditions on earth for more than 20 years.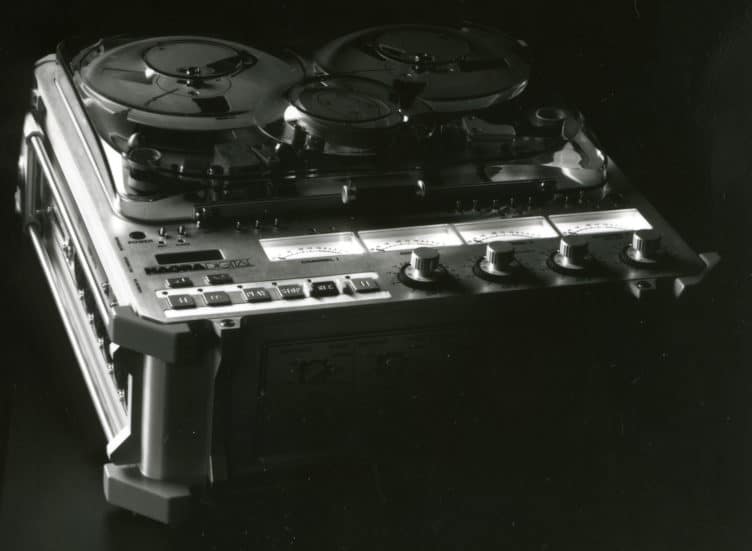 Nagra-DII's new performance
Nagra-DII's greatest asset is its integrated 24-bit AD/DA converters and its sampling frequency of up to 96 kHz, something that Nagra-D could only achieve with additional external equipment.
Technical improvements also include the introduction of a Windows version of the widely-used NADCOM software. The Windows platform includes a data control and management tool with a graphic interface, with which both Nagra-DII and earlier versions are equipped. Thanks to this software, the user can access various parameters in the machine in real time and thus maintain particularly accurate control over the recording in the midst of the action.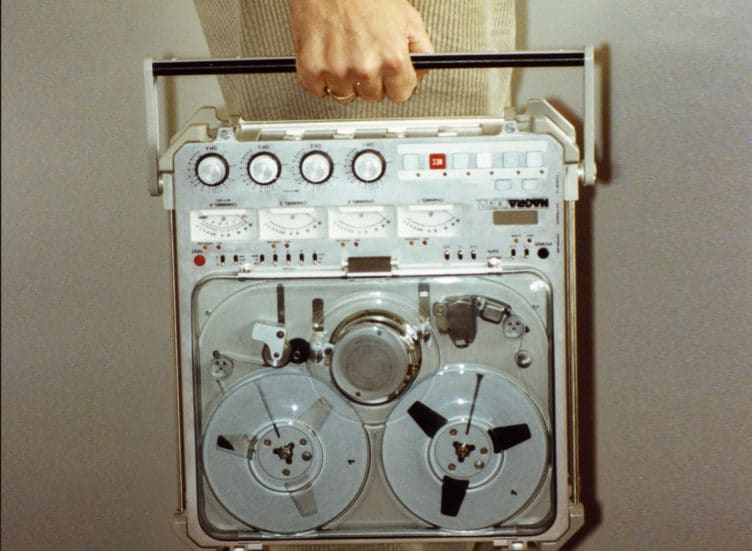 The NAGRA-DII Technology
While the NAGRA philosophy has not changed, the technology has. For example, with the ND-24B high resolution A/D and D/A converters, the Nagra-D II utilizes the highest possible dynamic range of any portable recorder.
With a resolution of 24 bits per sample, the internal A/D and D/A converters offer a working dynamic range in the field of more than 110 dB. They also allow the Nagra-D II to record at sampling frequencies of up to 96 kHz (Stereo).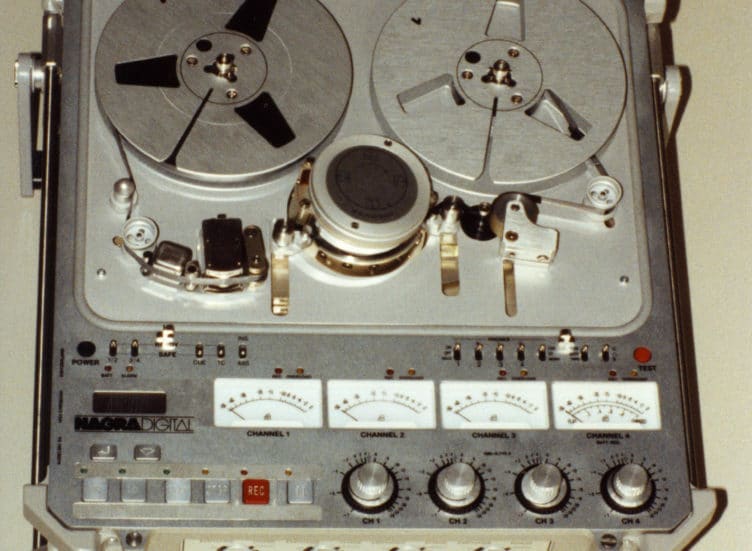 Perfect for high resolution formats
A single wire or double wire AES format can also be sent to or received from the digital in/out connectors, independent of each other. This enables the Nagra-D II to be totally compatible with current high sampling frequency standards, and lends itself perfectly to DVD and other high resolution formats.
Saves money in cinema post-production
While the advantages of such high resolution are obvious in music recording, the principal gain in film production is the enormous dynamic range. This enables a vastly larger range of sound levels to be authentically captured on locations, allowing more production sound to be used than ever before. Not only does this increase in the use of production sound deliver a more realistic sound track, but more importantly, it save in post-production costs.
NADCOM for Windows – Information you can't get anywhere else
Connecting the Nagra-D II to a PC by way of its serial port and running the NADCOM program (Operating under Windows 95), allows the user instant, permanent and unique access to the heart of the recorder. The NADCOM program provides information to the user not available on any other recorder in the world. Detailed data can be printed out and kept as a permanent historical account of a recording, and is updated each time the tape is played. Multiple windows can be opened simultaneously to monitor the levels, error correction, analog measurements, internal settings of the machine, and more.
Multi-channel recording
For both music and film, real multi-channel recording is made possible by locking several machines together and taking advantage of the Nagra-D II's ability to "sample sync" the tape transports. This feature ensures that the rotary heads of all of the machines are in perfect phase with each other, although they are spinning at 62 revolutions per second. The recording of identical time codes on each of the machines also guarantees perfect chase lock synchronization during post-production. The serial remote control port on the Nagra-D II means that only the master machine needs to be controlled, as the slave machines will automatically copy all the movements of the master.
Along with dependability and Swiss engineering quality, NAGRA recorders are renowned for their adaptability. While they are as solid as a rock physically, they have always had the operational flexibility to excel at every task they are called upon to perform. The Nagra-D II continues that tradition. With many optional accessories and a totally software-based architecture, it can be customized to suit every requirement of its operators.
Up to 4 hours of stereo
By attaching the 7-inch reel adapter and cover, you can double the normal recording time. Using 7″ (18cm) reels, up to 2 hours of 4-channel operation is available, while in 2-channel stereo mode (sampling frequency up to 48 kHz), this is increased to 4 hours. At 96 kHz sampling, 2 hours is available in stereo.
Everything about the Nagra-D II reflects the proud Swiss tradition of engineering precision. The close tolerances of the scanner entry and exit guides as well as the highly polished precision head-drum, guarantee a format compatibility and perfect results in even the most demanding conditions.
Multiple channels make the Nagra-D II one of the most adaptable tools for location recording available anywhere. By separating microphones onto discrete tracks, the sound engineer has a far greater flexibility.
The internal time code option not only offers all the features necessary for a location recorder, but includes all the additional elements required in post-production. The Nagra-D II will perform full chase synchronizing functions for film post-production, plus chase-and-sample sync operations for multiple machine recording. Of course it is compatible with all current SMPTE/EBU time code formats.
The longitudinal headblock which guarantees both perfect time code synchronization and analogue CUE track recording using the left head. Due to its construction, the reading of data even during fast wind is possible as the tape remains in contact with the time code head at all times. The scanner control track is recorded by the right head, which is only used when the tape is at nominal speed.
Customization is possible using a system of different "menus". The internal software of the Nagra-D II can be personalized/customized and adapted according to the requirements of the specific user, depending on the particular application in hand. Different set-up configurations can also be stored in memory for immediate access at any time.
Projects using the Nagra-D
2003 Releases
"The Hunted" Dir-William Friedkin; Snd-Edward Tise; Stars-Tommy Lee Jones
2002 Releases
"Gangs of New York" Dir-Martin Scorese; Snd-Ivan Sharrock; Stars-Leonardo DiCaprio, Cameron Diaz "Spider" Dir-David Cronenberg; Snd-Glen Gauthier; Stars-Ralph Fiennes, Gabriel Byrne, Lynn Redgrave, Miranda Richardson "Tuck Everlasting" Dir-Jay Russell; Snd-Kirk Francis; Stars-William Hurt, Ben Kingsley, Sissy Spacek "Sum of All Fears" Dir-Phil Alden Robinson; Snd-Patrick Rousseau; Stars-Morgan Freeman "Glitter" Dir-Vondie Curtis-Hall; Snd-Tom Hidderley; Stars-Mariah Carey
2001 Releases
"The Shipping News" Dir-Lass Halström; Snd-Glen Gauthier; Stars-Kevin Spacey "Don't Say a Word" Dir-Gary Fleder; Snd-Glen Gauthier; Stars-Famke Janssen, Michael Douglas "Ali" Dir-Michael Mann; Snd-Lee Orloff; Stars-Will Smith, Jon Voight "Caveman's Valentine" Dir-Kasi Lemmons; Snd-Glen Gauthier "Rock Star" Dir-Stephen Herek; Snd-Petur Hliddal "Without a Word" Dir-Lisa Niemi; Snd Leon Johnson "Inside the Osmonds" Dir-Neill Fearnley; Snd-Leon Johnson "Society's Child" Dir-Pierre Gang; Snd-Leon Johnson "100 Centre Street" HD-TV Dir-Sidney Lumet; Snd-Chris Newman "The Mexican" Dir-Gore Verbinsky; Snd-Lee Orloff "In the Bedroom" Dir-Todd Field; Snd-Edward Tise "The Score" Dir-Frank Oz; Snd-Glen Gautier "Planet of the Apes" Dir-Tim Burton; Snd-Petur Hliddal "Swordfish" Dir-Dominic Sena; Snd-Edwards Tise
Production Sound Mixers
J.M. BLONDEL see letter "The Ninth Gate" Dir-Roman Polanski. 1999
GAUTAM CHAUDHURY "Dinner Rush" Dir-Bob Giraldi. 2000
PETER DEVLIN "Gone in 60 Seconds" Dir-Dominic Sena. 2000 "Any Given Sunday" Dir-Oliver Stone. 1999
KIRK FRANCIS, C.A.S. "Wonder Boys" Dir-Curtis Hanson. 2000 "The Postman" Dir-Kevin Costner. 1997 "L.A. Confidential" Dir-Curtis Hanson. 1997 Nominated Academy Award for Best Sound, 1998. Winner "Best Sound" British Academy of Film and Television Art, 1998. "Tin Cup" Dir-Ron Shelton. 1996 "Jade" Dir-William Friedkin. 1995 "Mr. Holland's Opus" Dir-Stephen Herek. 1995 "Blue Chips" Dir-William Friedkin. 1993.
GLEN GAUTHIER "The Score" Dir-Frank Oz. 2001 "Caveman's Valentine" Dir-Kasey Klemons, 2001 "Skulls" Dir-Rob Cohen. 2000 "Sunshine"Dir-Isplan Szavo. 2000 **1999 Winner – Best Sound – Canada "eXistenZ" Dir-David Cronenberg. 1999 "Simon Birch" Dir-Mark Steven Johnson. 1998 "Blues Brothers 2000" Dir-Simon Birch. 1998 "Mimic" Dir-Guillermo del Toro. 1997 "The Wrong Guy" Dir-David Steinberg. 1997 "Two if by Sea" Dir-Bill Bennett. 1996 "Maximum Risk" Dir-Ringo Lam. 1996 "Harriet the Spy" Dir-Bronwen Hughes. 1996
PETUR HLIDDAL "Rock Star" Dir-Stephen Herek. 2001 "Planet of the Apes" Dir-Tim Burton. 2001
LEON JOHNSON "Without a Word" Dir-Lisa Niemi. 2001 "Inside the Osmonds" Dir-Neill Fearnley. 2001 "Society's Child" Dir-Pierre Gang. 2001 "Wishmaker 4: The Phophecy Fulfilled" Dir-Chris Angel. 2000 "Wishmaker 3: Sword of Justice" Dir-Chris Angel. 2000 "Children of My Heart" Dir-Keith Ross Leckie. 2000 "Law of Enclosures" Dir-John Greyson. 2000 "Nostradamus" Dir-Tibor Takács. 2000 "Red Team" Dir-Jeremy Haft. 1999 "The Adventures of Shirley Holmes" various directors. 1998 "Mark Twain's America" IMAX 3D Dir-Stephen Low. 1998t
LES LAZAROWITZ "Sweet & Lowdown" Dir-Woody Allen. 1999
CHRIS NEWMAN, C.A.S. "100 Centre Street HD-TV" Dir-Sidney Lumet. 2001 "Autumn in New York" Dir-Joan Chen. 2000 "Man on the Moon" Dir-Milos Forman. 1999 "Gloria" Dir-Sidney Lumet. 1999 "You've Got Mail" Dir-Nora Ephron. 1998 "Primary Colors" Prd/Dir-Mike Nichols. 1998 "The People vs. Larry Flynt" Dir-Milos Forman. 1996 "The English Patient" Dir-Anthony Minghella. 1996 Winner of Academy Award for "Best Sound" 1997. "Home for the Holidays" Dir-Jodie Foster. 1995 "Copycat" Dir-Jon Amiel. 1995 "Nell" Dir-Michael Apted. 1994 "Philadelphia" Dir-Jonathan Demme. 1993
LEE ORLOFF, C.A.S. "Patriot" Dir- Roland Emmerich. 2000 "The Mexican" Dir-Gore Verbinski. 2000 "Million Dollar Hotel" Dir-Wim Wenders. 2000 "The Insider" Dir-Michael Mann. 1999 "Galaxy Quest" Dir-Dean Parisot. 1999 "Blade" Dir-Stephen Norrington. 1998 "The Odd Couple II" Dir-Howard Deutch. 1998 "Hard Rain" Dir-Mikael Salomon. 1998 "Kiss the Girls" Dir-Gary Fleder. 1997 "Last Man Standing" Dir-Walter Hill. 1996 "Heat" Dir-Michael Mann. 1995 "Last Action Hero" Dir-John McTiernan. 1993
ERIC RUEFF "Rosenstrasse" Dir- Margarethe von Trotta. 2002 "Koje gesugt" Dir-Markus Bräutigam. 2002 "Famille à la Carte" Dir-Peter Tim. 2002 "Sektion" Dir-Markus Bräutigam. 2002 "Die Lawine" Dir-Jörg Grünler. 2001 "Antonia" Dir-Jörg Grünler. 2000 "Der Millenium Man" Dir-Joe Coppoletta. 2000 "Girl" Dir-Pierc Ashworth. 2000 "ein Fall für Stubbe" 2000 "Grand Paradiso" Dir-Miguel Alexandre. 1999
IVAN SHARROCK "Proof of Life" Dir-Taylor Hackford. 2000 "U-571" Dir-Jonathan Mostow 2000 "The Talented Mr. Ripley" Dir-Anthony Minghella. 1999 "The English Patient" Dir-Anthony Minghella. 1996 "Mary Shelley's Frankenstein" Dir-Kenneth Branagh. 1994 "Little Buddha" Dir-Bernardo Bertolucci. 1993
BILLY SAROKIN "Joe Gould's Secret" Dir-Stanley Tucci 2000 "Earthly Possession" Dir-James Lapine. 1999 "Simply Irresistible" Dir-Mark Tarlov. 1999 "Return to Paradise" Dir-Joseph Ruben. 1998
EDWARD TISE "Swordfish" Dominic Sena. 2001 "In the Bedroom" Dir-Todd Field. 2001 "The Replacements" Dir-Howard Deutch. 2000 "The Flintstones in Viva Rock Vegas" Dir-Brian Levant 2000 "Three Kings" Dir-David Russell. 1999 "Eyes Wide Shut" Dir/Prd-Stanley Kubrick. 1999 "Mad City" Dir-Constantin Costa-Gavras. 1997
DANIEL BRISSEAU "The Fifth Element" Dir-Luc Besson. 1997
Music Mastering customers
John Atkinson, Stereophile Magazine Jerry Bruck, Posthorn Recording Thomas Buckner, Mutable Music Productions Craig Dory, Dorian Recording Rod Evenson, Albany Records Hudson Fair, Ealing Mobile Recording Tony Isaacs, Indian House Bob Ludwig, Gateway Mastering George Lyman, Encore Recording Jonathon Marcus, Orpharion Recording John Marks, John Marks Records Generoso Pope, Pope Music Inc. Jeffrey Silberman, Ambisonics Albert Swanson, Seattle Symphony Jack Vad, San Francisco Symphony Ron Cogswell, The Sound Company Joseph Grado Peter McGrath, PMG Recording David Smith, Sony Music George Walker Richardson Recording Meyer Sound Hal Phillips Ron Meyer, Encore Performance Rec.
and the liste goes on
Cello Music and Film Disney Imagineering Magno Film & Video Quantegy, Inc. Sony Electronics SounDelux Peter Weibel Audio Fancy Corporation
Other products to discover
NAGRA NEWSLETTER: Stay in The know
Get the latest news from Nagra plus some exclusive content directly in your inbox.
UP